From Our Blog

10-May-2020

"What man has done to man has no limit. He has tortured him, he has burned him, he has killed him, he has exploited him in every possible way-religious, political, economic. This has been the story of man to man; the clever exploit the stupid, the ignorant." …..J.Krishnamurti. The tradition of human rights concepts is as [Read More]
Together We Create a Special World!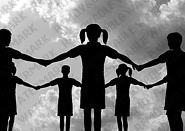 We Are Human
WAH Foundation addresses social issues such as illiteracy, child labour, health promotion and better living, women empowerment and vocational programmes for the physically impaired as well as the under privileged sections of the society. Since the youth of a nation are the representatives of the future hopes of that nation, WAH Foundation is also geared to sensitize the youth, by imparting upon them education, training and other skills by conducting youth empowerment programmes that give them insight into governance, nation building and participation into political activities. Above all, they are constantly encouraged to focus on education and other such trainings as the major key for attaining meaningful heights in life.
We Need Your Support